PDC Premium Service
FltPlan offers PDCs (Pre-Departure Clearances) for Jets and Turbo Props NOT equipped with a datalink box. PDCs are text clearances issued for an IFR flight plan.
PDCs include
Your filed route
Amendments to your route
Your cleared altitude
Your transponder code
Your departure frequency
Any special instructions
A PDC is the same as receiving a verbal clearance from Clearance Delivery.
Sample PDC:
PDCs are available for the following U.S. airports: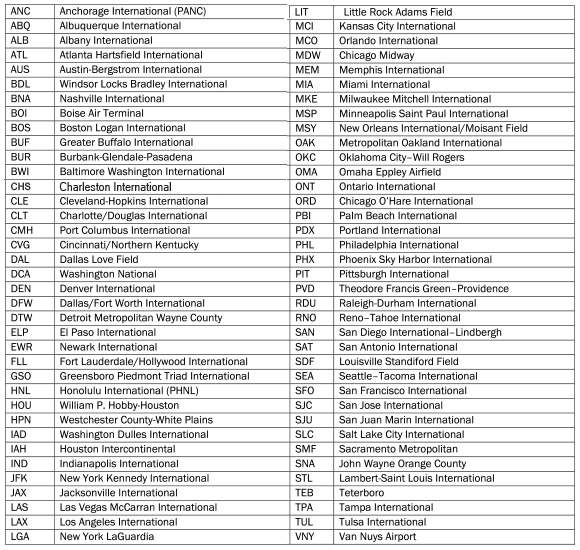 Approximately 20 to 30 minutes prior to the filed departure time, ATC will generate the PDC and the PDC will be forwarded to FltPlan. Once received, the PDC will automatically be displayed on your Active Flight Plan list. The PDC may also be distributed to the Pilot or Co-Pilot via email addresses / text messages, as setup in the User/Pilot Info section of your account.
The PDC service is not operational until the aircraft registration number / call sign are registered with the FAA by FltPlan.
To receive your PDC clearance by email or text message, you MUST file the flight plan through FltPlan.com.

PDC pricing is based on the number of aircraft:
1 - 5 Aircraft = $199.00 per aircraft per year
6 - 10 Aircraft = $150.00 per aircraft per year
11 or more Aircraft = $100.00 per aircraft per year
Example, if you register 9 aircraft for PDCs, aircraft 1-5 will be charged $199.00 each ($995.00), aircraft 6-9 will be charged $150.00 each ($450.00) for a total of $1,445.00.
In order to enroll your A/C in our PDC program please completely fill out the PDC Registration and Payment Forms (PDF) and email them to Support@FltPlan.com
PDC paperwork is processed twice a month on the 8th and 23rd.
PDCs and all other premium services are non-refundable.
Interpreting PDCs
While most PDCs are easy to interpret, there are some that may be difficult even for the most experienced aviators. We have compiled 11 examples of PDCs that may be challenging, and included questions to test your knowledge. The quiz will not be graded - you will see the correct answers as you go.