Thank you for showing an interest in the Corporate Angel Network (CAN)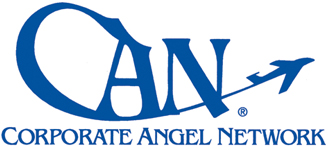 CAN is a non-profit organization that arranges free air transportation for cancer patients who need to travel to treatment centers by using empty seats on corporate and private aircraft. Since 1981, they have arranged nearly 40,000 flights and fly over 250 patients each month.
FltPlan has partnered with CAN to make it simpler for pilots to notify them of available flights. FltPlan users who are also registered with CAN will be able to easily send flight information right from their account without having to call or send a separate e-mail.

We do not currently show your account registered as an active member of the CAN program. If you would like to participate, please complete the CAN registration form on the Corporate Angel Network Site
If you are already a CAN participant, send your FltPlan username and company name to Amanda at aaskew@corpangelnetwork.org to have your account activated.
About CAN
CAN has over 500 participating corporations (including half of the Fortune 100) who can attest to how easy and rewarding it is to help:
There is no additional cost to you when you are already flying on routine business.
CAN acts as the 24/7 liaison regarding all flight details and ground transportation.
CAN verifies with the patient's physician that no onboard medical assistance will be needed.
Patients are required to make back-up flight arrangements in case of cancellations.
Registration is easy and requires no minimum obligations.
To learn more about CAN, visit their website at CorpAngelNetwork.org. For additional information, send an email to info@corpangelnetwork.org or call 914-328-1313.