FltPlan offers PDCs (Pre-Departure Clearances) for Jets and Turbo Props NOT equipped with a datalink box. PDCs are text clearances issued for an IFR flight plan.

PDCs include:
Your filed route
Amendments to your route
Your cleared altitude
Your transponder code
Your departure frequency
Any special instructions
A PDC is the same as receiving a verbal clearance from Clearance Delivery.
Sample PDC:
PDCs are available for the following U.S. airports: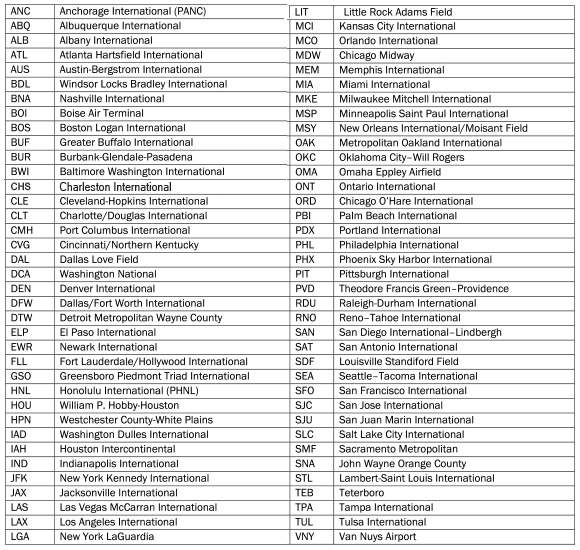 Approximately 20 to 30 minutes prior to the filed departure time, ATC will generate the PDC and the PDC will be forwarded to FltPlan. Once received, the PDC will automatically be displayed on your Active Flight Plan list. The PDC may also be distributed to the Pilot or Co-Pilot via email addresses / text messages, as setup in the User/Pilot Info section of your account.

PDC service is not operational until the aircraft registration number / call sign are registered with the FAA by FltPlan.

To receive your PDC clearance by email or text message, you MUST file the flight plan through FltPlan.com.

The cost for this Premium Service is $199.00 per aircraft per year. To sign up for PDC notifications through FltPlan, complete the PDC Registration Form (PDF) and return by fax to 203-262-8904 or email to Tina@FltPlan.com.
FAQs
How soon after registering can I receive PDCs?
If you sign up before the 8th of the month, your PDC service will be available beginning on the15th of the month (unless the 15th falls on a Saturday or Sunday).
Can the PDC service be used for flights using a call sign or flight number?
Yes, as long as the call sign or flight number is specific to the tail number.
Will the PDC service work for aircraft being flown by multiple FltPlan users?
Yes, the PDC service is tail number/call sign specific and will work in multiple accounts.
If my cell phone or cell service fails, will I run into trouble contacting ATC for the clearance like I normally would?
No, you can go to any computer or other device with internet access and get your PDC online at FltPlan.
What is the purpose of limiting these PDCs to one per day per airport?
This is an FAA limitation, and not a limitation of FltPlan. The FAA will only allow one PDC per tail number/call sign per airport per day, to avoid pilots using the wrong PDC.
What should I do if my flight is delayed by more than two hours?
If you are delayed, PDC standard procedure is to call Clearance Delivery within 120 minutes past your scheduled departure time and they will extend/update your new departure time. There is no need to re-file.
If, for any reason, you do not ask for your clearance within 2 hours of your scheduled departure time, your clearance will be dropped out of the system, and you will need to re-file. You should then ask for your clearance by radio since you have re-filed.