What is GPS RAIM?
RAIM stands for Receiver Autonomous Integrity Monitoring.

Is a pre-flight GPS RAIM Prediction analysis required by the FAA?
The FAA requires that GPS RAIM availability be confirmed for the intended route of flight (route and time) using current GPS satellite information.

Which flights require a GPS RAIM Prediction analysis?
GPS RAIM Predication requirements apply to any flight using U.S. RNAV routes (Q routes and Tango routes), RNAV Departure Procedures (Obstacle Departure Procedures and Standard Instrument Departures), RNAV Standard Terminal Arrivals (STARs), GPS NPA (non-precision approaches using GPS), and Alternate Aiport (if using GPS).
How do I check pre-flight GPS RAIM Prediction on FltPlan?
If the equipment entered in your aircraft profile indicates that you have GPS equipment, FltPlan will automatically calculate your flight plan for GPS RAIM along your route of flight using current GPS satellite information. One of the icons below will be displayed on the bottom left side of the NavLog.
How far in advance can I check pre-flight GPS RAIM Prediction?
GPS satellite information is only available within 50 hours of your scheduled departure time. FltPlan will automatically calculate the GPS RAIM Prediction for a flight plan created for the current or next day when the NavLog is displayed.
What does FltPlan's GPS RAIM Prediction check?
In addition to your route of flight, FltPlan checks for Terminal Departure RAIM, Terminal Arrival RAIM, Arrival Airport NPA (non-precision Approach) RAIM, and Alternate Airport RAIM (if you have listed an alternate).
What if I have "Baro-Aiding"?
If you get a Caution or Warning GPS RAIM message on your NavLog click on the image to get a full report. The report will show if you have a legal GPS RAIM check with Baro-Aiding.
Can I get more information about my flight and any GPS outages?
Click on the GPS RAIM icon to get a full graphical report (see below).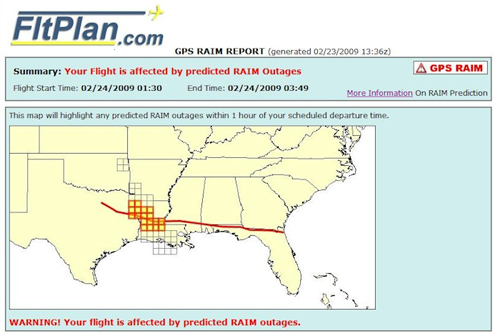 Additional Information
• FltPlan provides method to verify that your flight complies with AC-90-100A.
• FltPlan's RAIM Prediction complies with FAA requirement for preflight planning.
• A message is automatically displayed on the bottom left of the NavLog for GPS aircraft
(based on your aircraft equipment profile).
• View the full graphical report by clicking on the GPS RAIM message.
• Confirm the RAIM check by printing the NavLog or the full GPS RAIM report.